The number of drownings remains high in 2021
The DROWNING survey, carried out every three years, aims to identify all accidental drownings and to describe the circumstances of their occurrence and the characteristics of the victims. It is based on information collected by questionnaires from the emergency services (in particular firefighters, Samu-Smur). Drowning is taken into account if there is an organized rescue intervention, followed by hospital treatment (going to the emergency room, hospitalization) or death.
During the summer of 2021, 1,480 accidental drownings were recorded, a figure down 10% from that of the summer of 2018 which amounted to 1,649 and held the record for all DROWNING surveys. The proportion of deaths was comparable in 2021 (27%) and in 2018 (25%). This drop in the total number of accidental drownings can be explained in particular by climatic conditions that are not very favorable for swimming (temperatures, sunshine) over a large part of the metropolitan territory during the summer period of 2021.
These accidental drownings concern all places and all ages. In 2021, they were more numerous among the young and the elderly with 22% of accidental drownings among children under 6 years old and 26% among people aged 65 and over. The proportion of drownings followed by death was higher among those over 65 years old: 41% against 6% among children under 6 years old.
Regarding the places where drownings occurred, 47% of accidental drownings took place at sea, 26% in swimming pools of all types, 23% in waterways or bodies of water and 4% in other places (for example bathtubs or basins). The proportion of deaths was higher among drownings taking place in bodies of water (49%) and in waterways (41%) whereas it was 25% at sea, 15% in swimming pools of all types and 14% in other places. Drownings in swimming pools concerned more children under 6 years of age and drownings at sea more concerned those aged 65 and over.
However, it is important to emphasize that many of these drownings occurred in the context of the lifting of the restrictive measures deployed for the management of the COVID-19 epidemic. In this context, these drownings could be, in part, linked to a poor assessment by swimmers of their physical abilities or to a deterioration in the state of health at the end of a long period of confinement and less physical activity. It is therefore crucial to recall the drowning prevention measures at all ages, among the youngest as well as the oldest, emphasizing the importance of taking into account the physical form and state of health of each person.
For a gradual and safe resumption of swimming, especially after a period of decline or absence of physical activity:
Consider your fitness
Do not swim if you experience any physical ailments (including fatigue, health problems, chills, body aches)
Adapt the intensity of your swimming to your abilities and do not overestimate your swimming level. When resuming swimming after a break, focus on short distances. Before you go swimming, make sure your physical condition allows you to return. Remember that it is more difficult and tiring to swim in a natural environment (sea, lake, river) than in a swimming pool
Do not hesitate to consult a doctor to accompany you in the resumption of swimming
At all ages, bathing involves risks. Simple steps can be taken to bathe safely:
For the little ones: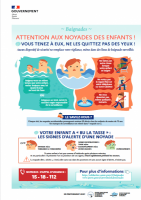 Teach children to swim as early as possible and familiarize them with aquatic ease from an early age
Supervise children at all times, always stay close to them when they are playing at the water's edge and swim with them when they are in the water
Each child must be constantly and closely supervised by a single adult who takes responsibility for them during swimming time.
Pay particular attention when swimming in "above-ground" (not buried) pools that do not have a safety device
For adults:
It's never too late to start or learn to swim again
Take into account the bathing environment, especially in rivers, lakes and at sea. Find out about the weather conditions and, in general, respect the safety instructions, bathing bans and bathe -you in the supervised areas indicated by the bathing flags[1]where the intervention of rescue teams is faster.
Tell a loved one before swimming
Enter the water gradually, especially after long exposure to the sun
Do not consume alcohol before swimming
Public health France and the ministries Health and Prevention, inside, Sports and the Olympic and Paralympic Games and the ministry of the Ecological Transition and territorial cohesion provide health professionals and the general public with prevention tools presenting the actions to adopt to acquire aquatic ease, swim and practice a nautical activity in complete safety. These prevention tools are available here. A prevention campaign will be deployed throughout the summer, particularly on social networks, in order to inform and raise public awareness of the risks of accidental drowning.