Preferences for first and second generation pills, use of IUDs, the latest sales data published by the National Agency for the Safety of Medicines and Health Products (ANSM) show the continuation of changes in the use of contraceptives in France.
Focus on birth control pills
According to sales data, the postponement of prescriptions for birth control pills by 3e and 4e generation to 1 pillsD and 2e generation started in 2013 continued. As of 2018, the distribution of use between 3rd and 4th generation contraceptive pills and those of 1D and 2e generation has stabilized. Today, it is respectively 14% and 86% of all combined oral contraceptives (COCs) sold.
The latest sales data confirm that women and prescribers prefer contraceptive pills with the lowest venous thromboembolic risks (phlebitis, pulmonary embolism) (oral contraceptives of 1D or 2e generation containing levonorgestrel associated with a low estrogen dosage (20 μg).
In addition, the sale of oral contraceptives (progestins alone or combined with an estrogen) has been falling steadily for 10 years (approximately -12%); more specifically, the drop in combined oral contraceptives is around 33%, while the share of progestins alone is increasing.
What about other contraceptive methods?
Regarding other hormonal methods, such as levonorgestrel intrauterine devices (IUDs) (Mirena, Jaydess and Kyleena) and etonogestrel implants (Nexplanon), sales figures have been stable for 10 years.
In addition, sales of copper IUDs have been on the rise over the past ten years, with sales doubling over this period.
It should also be noted that sales of vaginal rings (Etoring, Nuvaring) have declined over the past ten years, with a drop of approximately 50%.
These trends observed on sales are in line with the conclusions of the 2016 Health Barometer from Public Health France, which had highlighted a shift in the use of the pill to other methods since 2013.
Reliable and detailed information on contraceptive methods: Questionsexuality.fr
All the methods of contraception available in France are presented on the Questionsexualité.fr website, in the Choose your contraception section, created by Public Health France. It presents the advantages, disadvantages, methods of use, and practical information that allows everyone to choose from the existing offer.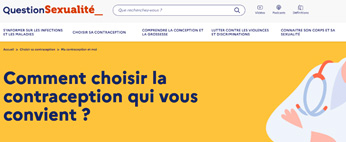 A summary table makes it possible to visualize at a glance the effectiveness of the various methods and to classify them according to various criteria. To go further and prepare for a contraception consultation, the Questionsexualité.fr website also offers a personalized questionnaire. This questionnaire aims to:
promote dialogue between the patient and her healthcare professional, including on non-medical aspects;
offer personalized information on the various existing contraceptive methods and their adequacy in relation to everyone's expectations.
At the end of the questionnaire a personalized answer is provided and for each method of contraception, the positive and negative points are explained in detail.
A link to the descriptive sheet of each method is available.
The results are free to download. This support can be used to engage in dialogue with your healthcare professional during a consultation.
Questionsexualite.fr completes the digital ecosystem of Public Health France in terms of sexual health (Onsexpress.fr and Sexosafe.fr).
Through its various actions, Public Health France seeks to deliver information adapted to everyone's needs. In the field of contraception, this means promoting contraceptive diversity and disseminating reliable and accessible information so that everyone can make an informed choice.